Our biographical sketch on Max Pechstein (December 31, 1881 to June 29, 1955) relies on a MOMA curration and the book Max Pechstein: The Rise and Fall of Expressionism (Bernhard Fulda, Aya Soika, 2013 ).
Pechstein was introduced to Erich Heckel in 1906 and was invited by him to join Die
Brücke
, a group founded in the previous year that was quickly to become a major force in the rise of German Expressionism. The founders of the group were all architecture students, leaving Pechstein as the only member to have received formal academic training as a painter. He remained closely involved with the group until 1910,drawing and painting in the studios of Heckel and Ernst Ludwig Kirchner in Dresden and also working communally with them en plein-air; together with Heckel and Kirchner, for example, he spent some weeks during summer 1910 painting naked bathers at the Moritzburg lakes near Dresden. Paintings produced by Pechstein at this time, such as "Girl in Red at a Table" (1910...), are very close in style to work by other Brücke artists and are among the most important paintings of the group's communal period.

Pechstein travelled to Italy in 1907 on winning the Dresden Kunstakademie's Rome prize and stopped off in Paris for some time in 1908 on his return. ... In 1908 Pechstein moved to Berlin, where he was joined three years later by the other Brücke painters. He exhibited in the Berlin Secession in 1909, but in 1910, after he and other young artists had their pictures rejected there, he helped found the
Neue Sezession,
of which he was made chairman. In 1911 he and Kirchner established the
MUIM-Institu
t
(Moderner Unterricht in Malerei-Institut), a private painting and drawing school in Berlin that never enjoyed great success.

Pechstein was expelled from
Die Brücke
in 1912 for having exhibited some of his work at the Berlin Secession without their consent, but by this time his association with the group had already led him to a very flat style of painting in pure, unmixed colours, ....The first monograph on Pechstein's work appeared in 1916, followed shortly afterwards by other books. He was commissioned to decorate private houses and to design stained-glass windows, and in the 1920s he was held by several German critics to be the group's major talent, the 'Giotto of our time' ... A resentment against the prominence thus accorded to him may well have contributed to Pechstein's estrangement from the other members of
Die Brücke.


...... Following Paul Gauguin's example, in 1914 Pechstein travelled to Palau in the South Seas in search of further inspiration, but on the outbreak of World War I he was interned in Japan, finding his way back to Germany only to be sent to the Western Front in 1916


..... . [ He was sent to the front at the Somme, and later had a nervous breakdown.] [Here is some of his work from before the war].







"Girl On A Green Sofa With A Cat" (1910). Below is a pen and ink drawing which is titled: "Charlotte Woman with Cat", and may be dated 1912.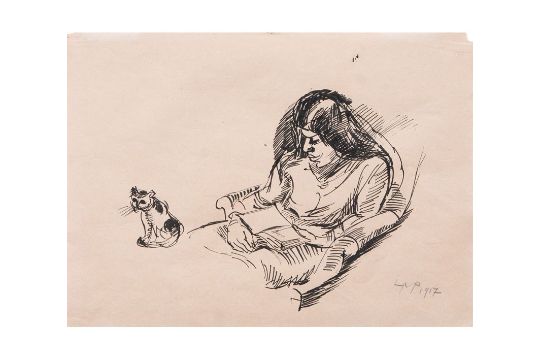 Pechstein became actively involved in two politically radical groups of artists formed in the wake of the German revolt of November 1918, the Arbeitsrat für kunst and the Novembergruppe, using the groups as a base for revolutionary and socialist initiatives, ....


In 1922 Pechstein became a member of the Preussische Akademie der Künste and a professor at the Hochschule für Bildende Künste in Berlin; four years later he was commissioned by the German government to design a five-part stained-glass window for the Internationales Arbeitsamt in Geneva. As a politically committed artist, however, he soon became a victim of the repressive measures of the Nazis:


...[In early May of 1933 Pechstein wrote]

Let us see if the new and power-hungry people will succeed, if yes, then alright, I myself am glad for once to have no more to do with all of it and intend to spend still this summer in peace...in the Pomeranian countryside

[Pechstein wrote this after the events of February 1933 "when a group of SA men stormed the State Art School in Berlin, violently removed four alledgedly "Jewish" and "Marxist" professors and attacked those students who came to their defense."

....[I]n 1933 he was forbidden to paint or exhibit and removed from his teaching post, and in 1934 he was expelled from the Preussische Akademie der Künste. [The Nazis removed 326 works of his from public collections. He wound up spending 12 years in his Pomeranian retreat]

His reputation in Germany was quickly rehabilitated at the end of World War II; he was appointed professor at the Hochschule für Bildende Künste in West Berlin in 1945 and was awarded many honours in the decade preceding his death. In retrospect, however, his artistic contribution has been overshadowed by that of Kirchner, Heckel and Schmidt-Rottluff, who continued to be regarded as the leading members of Die Brücke.