Johann Wolfgang von Goethe (August 28, 1749 to March 22, 1832) plays an interesting part in this article on the man who developed the classification of clouds we still use. The book,
The Invention of Clouds
,
documents the story, and is the cause of the excerpts below.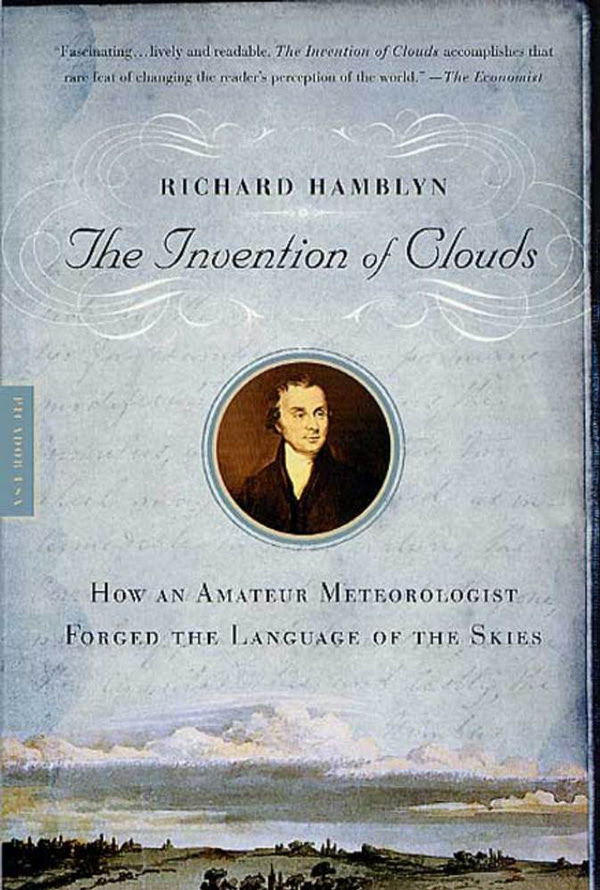 [T]he great ancient Greek playwright Aristophanes wrote: "...celestial Clouds, [are] the patron goddesses of the layabout. From them come our intelligence, our dialectic and our reason." Indeed, there is a singular quality of prayerfulness to clouds – a certain secular reverence undergirding their allure to both art and science...

Aristophanes remember, wrote comedy. And we learn
Luke Howard – the man who "distinguished cloud from cloud," a young amateur meteorologist who pioneered a classification system for humanity's favorite atmospheric phenomena – was the only Englishman whom Goethe ever addressed as "Master."
The man who fascinated Goethe described himself this way:
I am a man of domestic habits and very happy in my family and a few friends, whose company I quit with reluctance to join other circles.
Goethe summarized his interest in Howard:

To find yourself in the infinite,
You must distinguish and then combine;
Therefore my winged song thanks
The man who distinguished cloud from cloud.


The bigger picture is sketched.

In 1803, Howard self-published and distributed to friends a 32-page pamphlet titled On the Modifications of Clouds,.... a classification system equal parts poetic and practical. Dusting off his schoolboy Latin, he came up with names for the three main categories of clouds –cumulus, stratus, and cirrus....
....

Soon, Howard was [surprisingly] catapulted into the status of a scientific celebrity...

Around the time of Howard's rise to fame, Goethe had grown increasingly interested in science in general and morphology, the study of forms, in particular ....But meteorology, perhaps because it was a science of contemplation celebrating the inherent poetics of nature, enchanted the great German philosopher and poet more than any other scientific field...

When Howard came under criticism for using Latin rather than the spoken English of the era in his classification system, Goethe penned a passionate defense, insisting that Howard's Latin cloud names "should be accepted in all languages; they should not be translated, because in that way the first intention of the inventor and founder of them is destroyed." As Hamblyn points out, Goethe was "an arbiter of cultural and civilized value" and his word "was enough to settle any matter" – and so it did, ensuring Howard's Latin terms were henceforth the names by which we call the clouds....


Howard's theories of cloud formation... enhanced the development of Goethe's own view of the 'wholeness' of nature, the wholeness of its 'mind', as it were, and in his essay 'Wolkengestalt nach Howard' ('Cloud-shapes According to Howard') he praised the achievements and evident humanity of the brilliant young English meteorologist. ...

The great German poet set out to adapt Howard's essay into a series of short musical poems, one for each of the major classes of clouds, together titled Howards Ehrengedächtnis (In Honor of Howard) – a beautiful celebration of the eternal dialogue between art and science ...
Here are some of Goethe's poems, written in 1817:
STRATUS

When o'er the silent bosom of the sea
The cold mist hangs like a stretch'd canopy;
And the moon, mingling there her shadowy beams,
A spirit, fashioning other spirits seems;
We feel, in moments pure and bright as this,
The joy of innocence, the thrill of bliss.
.....


CIRRUS

And higher, higher yet the vapors roll:
Triumph is the noblest impulse of the soul!
Then like a lamb whose silvery robes are shed,
The fleecy piles dissolved in dew drops spread;
Or gently waft to the realms of rest,
Find a sweet welcome in the Father's breast.


NIMBUS

Now downwards by the world's attraction driven,
That tends to earth, which had upris'n to heaven;
Threatening in the mad thunder-cloud, as when
Fierce legions clash, and vanish from the plain;
... but see,
The mist is now dispersing gloriously:
And language fails us in its vain endeavour -
The spirit mounts above, and lives forever.


Hamblyn considers what impelled Goethe to transmute Howard's classification into poetry:


For Goethe the identification and naming of the clouds had done nothing less than transfigure mankind's relationship with aerial nature. The clouds had been released into the scientific consciousness, from where they could reach further, into the realm of the pure intellectual spirit, as addressed in the last line of 'Nimbus.' The greatness of Howard's classification, for Goethe, was that it accounted for the material forces of cloud formation while allowing for the immaterial forces of poetic response to be heard. ... Art could answer science, it could find within it not only a source of subject matter but a source of real inspiration. Goethe's cloud poems, as reactions to an energizing scientific insight, were heartfelt, joyous and sincere.

Goethe also wrote about Luke Howard, in reference to the skies:


....
We pause in wonder, and mistrust our eyes.
Then boldly stirs imagination's power,
And shapes there formless masses of the hour;
Here lions threat, there elephants will range,
And camel-necks to vapoury dragons change;
An army moves, but not in victory proud,
Its might is broken on a rock of cloud;
....
But Howard gives us with his clearer mind
The gain of lessons new to all mankind;
That which no hand can reach, no hand can clasp,
He first has gain'd, first held with mental grasp.
Defin'd the doubtful, fix'd its limit-line,
And named it fitly. – Be the honour thine!

As clouds ascend, are folded, scatter, fall,
Let the world think of thee who taught it all.
The world did forget. About Howard, and the world-view which Goethe outlined. But that is no verdict on its cogency.