Max Pechstein (December 31, 1881 to June 29, 1955) was the most popular German Expressionist painter before the Nazi coup, and their academic restructuring. The information below was gathered from several sources, including blogs and other sites.

Pechstein's paintings completed during a visit to Palau, strongly resemble Gauguin's. (1914.) In 1911
Franz Marc labeled Pechstein, the
"little Napoleon of the Berlin artistic community."
Pechstein,
after his art was seized,
survived World War II living in seclusion in Pomerania

Here are some Pechstein's we love: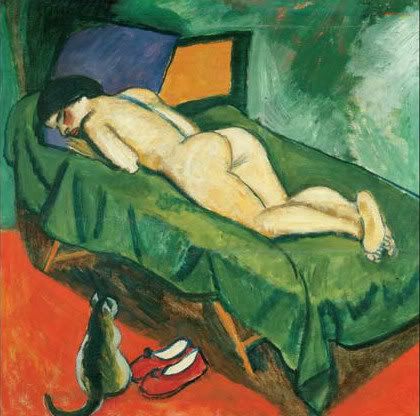 Pechstein's "Ležeći ženski akt", or "Lying female nude" was finished in 1911.

and "Reclining Nude with Cat," (1909).





This is one thing Franz Marc and Max Pechstein shared: the painting of cats.