Some of the very first photographs were those taken by Henry Fox Talbot (February 11, 1800 to September 17, 1877). He also contributed to the processses necessary for developing photographs. His name was in the news a few years ago:

British group working to preserve the work of influential 19th century photographer William Henry Fox Talbot has discovered previously unseen work by the innovator.

A project led by Oxford University's Bodleian Libraries has been working to preserve the largest extant pivate collection of Talbot's work since family members revealed last year that they were working with a New York dealer who could sell key works to private collectors.

The group won a £200,000 donation ... from the national Art Fund, leaving it with another £375,000 to raise to meet the £2.25 million ( $3.37 million U.S.) target required to secure all the work. The family also gave the Bodleian group a one-year extension on the February 2013 deadline they originally had set to raise the money.

In the midst of the campaign, archivists stumbled across 42 previously unknown works by Talbot, depicting botanical specimens, architectural works and more, including a striking image of a tiger.

Talbot started experimenting with photography in the 1830s, as Louise Daguerre refined what would become the daguerrotype. He invented the calotype process, which used paper treated with silver iodide to create negatives from which multiple prints could be made.

The process became the foundation for the negative film and printing methods that came to dominate photography, yet for some reason, Talbot took more heat and kind of lost the popularity contest at the time.

Talbot's prints and negatives are extremely delicate — some observers at the time remarked about them seeming to change in color and intensity as they watched — required extraordinary preservation measures.

Here is an update on this work at Oxford:

The complete works of William Henry Fox Talbot - hailed as the British father of photography - have been brought together on a new website launched by the Bodleian Libraries at the University of Oxford.

The free site has been launched in time to celebrate the anniversary of the pioneer's birthday, which was February 11, 1800.

The catalogue features more than 1,000 early Victorian photographic images, and is expected to grow to 25,000 images by 2018.

Professor Larry J Schaaf, project director for the Talbot Catalogue Raisonne, said: 'There has been nothing like this before in the history of photography.'


The site where you can view many newly available Victorian photographs, including those of Fox Talbot is here.

This is the picture of Fox Talbot's recently rediscovered "tiger:"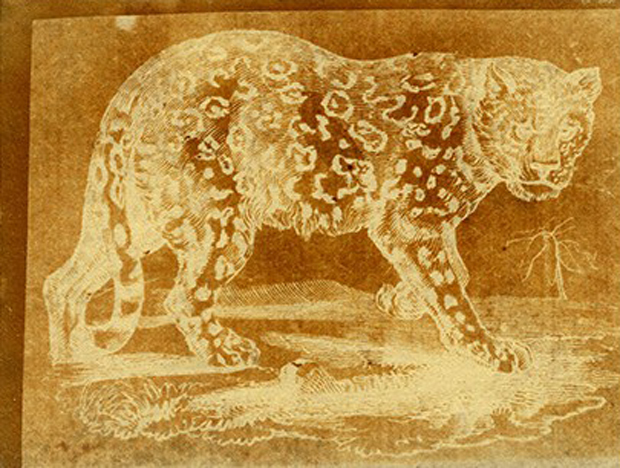 We are not sure where it was taken, but there were these beasts at zoos in Britain in that century. This picture shows the haunted, despairing look of such creatures.