The magazine we know as
Vogue
was founded in the late 19th century and its first issue was published on December 17, 1892. It cost a dime, and that went a little further over 100 years ago, than it does now. The magazine has evolved to the point it seems the domain of cat lovers. That
case was made
by Julia Hobbs recently. She's the fashion news editor of British
Vogue
, so we listen when she says:
We create dedicated Instagram accounts for our pet pussycats, FaceTime with them when we're away, and constantly agonise over their well being - but should we wear our love for our feline BFFs on our sleeves (literally)?
Here is Hobbs wearing a Stella McCartney print.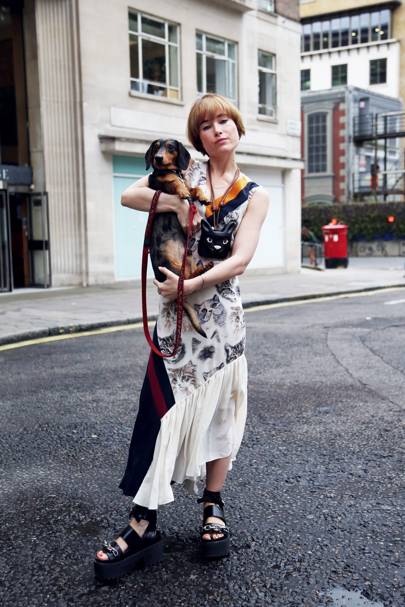 ...
Vogue'
s own creative director Jaime Perlman .
..[is a]
self confessed feline fan..
[
along with other staff
].
.... The prized pets of the industry's highest power players are rare and exotic breeds with immaculate temperaments and freshly combed hair, who exhibit the photogenic posing talents of Gigi Hadid all day, everyday. It's perhaps not surprising then that designers behind both the pre-fall collections (which are available in store now) and the autumn/winter catwalks paid homage to the fashion world's ultimate BFF with an array of cat strewn prints (Dolce and Gabbana, Stella McCartney, Gucci, Loewe, and Dries Van Noten, I'm talking about you guys).
I
should, at this point, make a confession: I don't have a cat. I can appreciate other people's ultra sweet moggies (thanks to @cats_of_instagram), but since my own irreplaceable tortoiseshell met a tragic end in my late teens, I have allied with dogs - finding kinship with affable Shih Tzus, and sometimes regarding cats with suspicion. They make me feel a little unnerved. Nevertheless, it's Friday and I'm wearing Stella McCatney's (ha) illustrated silk dress with Loewe's ginormous leather cat charm necklace to the Vogue office; an office of cat lovers
Why
[is the cat trend a success
]
? Well, cats break the seemingly steely demeanour of fashion's most highly regarded figures, and they do so while looking utterly elegant. Dare I say boxes ticked? I'm going to, it is Friday after all.
Here a couple of her examples: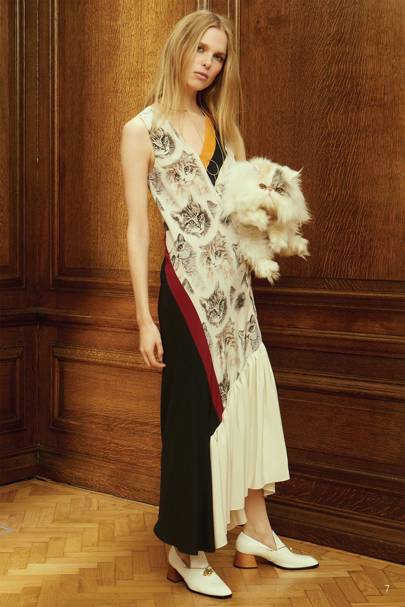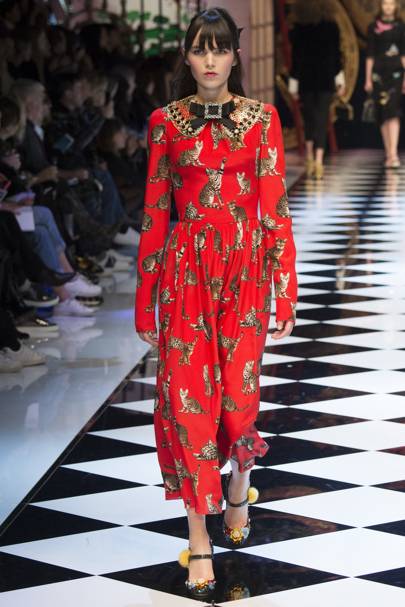 This is August, 2016.