cit--https://blogs.spectator.co.uk/2017/07/spectator-competition-winners-the-world-according-to-larry-the-downing-street-cat/
Lucy Vickery
23 July 2017 [pub date]
9:45 AM
The invitation to submit a poem about Larry, the Downing Street cat, went down well, attracting a hefty postbag.
Larry, who came to No. 10 in 2011 from Battersea Dogs & Cats Home during David Cameron's premiership, was left behind when the family moved on (though Mr Cameron denied that this was because he hated cats). The ten-year-old tabby's patchy record as Chief Mouser — apparently he spends more time kipping than hunting down rodents — hasn't dented his popularity; as well as having an impressive 136,000 followers on Twitter, he has inspired a book, a cartoon strip – and now a competition.
Honourable mentions go to Sylvia Fairley, Frank Upton, Basil Ransome-Davies, Paul Carpenter, Frank Osen and John O'Byrne's Emily Dickinson-inspired entry. The prizewinners, printed below, are rewarded with £30 apiece and Max Ross pockets the bonus fiver.
Max Ross
Much have I travelled in the realms of men,
And lots of homeless mutts and moggies seen;
In many a city dustbin have I been
To tell of which would tax a poet's pen.
Hopeless and crazed with hunger was I then,
All skin and bone, a thing unwashed, unclean;
I lived a life unbeautiful and mean
Till I was saved and brought to Number Ten.
Then felt I like a pauper made a king
Dumfounded by my rich inheritance;
Now every morning I hear angels sing
Of paradise, of pomp and circumstance.
Ah, here I have the best of everything,
A life of ease no wizard could enhance.
Frank McDonald
I'm a house cat, a mouse cat,
A clever cat and proud.
I'm a fat cat, a rat cat,
The darling of the crowd.
Call me classy if you choose
And regal if you must;
I feast among the famous folk
For I am upper crust.
I'm here in number ten to stay
Though families come and go;
And it would shatter hoi polloi
To know the things I know.
Of all the felines in the world
I guess there cannot be
A cat with greater privileges.
MAGNIFICAT — that's me.
Bill Greenwell
Larry says, her garb is odd
The colours loud and louder
She never purrs, but praises God
And others of His clowder
He says she likes a kitten heel
Or crazy-angle-necks
Larry likes her sex appeal
Respects her leather keks
Larry says, her stroking hand
Is very sure and stable
She'd kill a mouse, if it were planned,
Or wore a designer label
But lately she has hissy fits
And clips him with a Vogue
Her visitors hate cats to bits
And sport an Irish brogue
G.M. Davis
With the spryness of a puma, with a wicked
sense of humour,
With a satirist's demystifying eyes
He patrols the Whitehall railings itemising
human failings.
That's Larry, folks, the Witty and the Wise.
He's as salty as a sailor, he's as hip as Norman
Mailer,
He's got cool, he's got charisma, he's got class.
He has super-potent mojo, doesn't give a
damn for BoJo,
And tells Damian Green to shove it up his
arse.
Since the Maybot installation as the leader of
the nation
Like a zombie dragged-up version of Farage,
Larry hangs out at a distance till her personal
assistants
Shut her down for several hours to recharge.
When you earn your bread and butter
co-existing with a nutter
It's a contradiction, but as Larry says,
'Never mind a funny living, it's the gift that
keeps on giving'.
He's already bought a welcome mat for Jez.
Mike Morrison
I'm the Battersea Bruiser, no pussy-cat loser,
Ten Downing Street's chav chât-elain;
When there's mouses need fixin' and rats ripe
for nixin'
No problem, guys, Larry's your man.
No mutt calls me Mog — I live high on the
hog,
My PM's an A1 role model:
Top care and attention plus index-linked
pension —
Each day is a dream-ticket doddle.
True, some of her cronies are freeloading
phoneys
And backstabbers (that's entre nous),
But I did like Obama— oh boy, what a
charmer!
Michelle was a cool kitty, too.
Whichever lot win, whoever gets in
I keep shtummo and don't dish the dirt;
Labour or Tory, it's all hunky-dory —
This job is a cinch — and a cert!
]]]]]]]]]]]]]]]]]]]]]]]]]]]]]]]]]]]]]]]]]]]]]]]]]]]]]]]]]]]]]]]]]]]]]]]]]]]]]]]]]]]]]]]]]]]]]]]]]]]]]]]]]]]]]
Citing
https://www.theguardian.com/world/2016/jul/11/larry-the-cat-will-not-be-evicted-from-no-10-cabinet-office-confirms
Larry the cat will not be evicted from No 10, Cabinet Office confirms
When the Cameron family leave, it will be without the tabby who has lived in Downing Street since 2011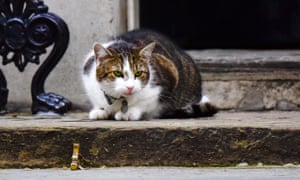 Larry on the steps of No 10 earlier this month. Photograph: Steve Back/Barcroft Images
Press Association
Monday 11 July 2016 17.36 EDTLast modified on Monday 11 July 201618.04 EDT
The Downing Street cat will be spared eviction from Number 10 when the
Cameron family leave
, it has been confirmed. Chief mouser Larry – a brown and white tabby entrusted with the rat-catching portfolio – will continue to reside in his famous abode when Theresa May moves in after becoming prime minister on Wednesday.
A Cabinet Office spokeswoman said: "It's a civil servant's cat and does not belong to the Camerons – he will be staying."
Larry, who was rehomed from Battersea Dogs and Cats Home in 2011, was said to have a "strong predatory drive" that suggested he would be well suited to the task of rat catching.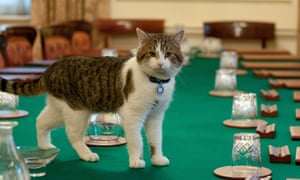 Larry soon after arriving at Downing Street in 2011. Photograph: Chris Montgomery/Rex Features
David Cameron welcomed the cat's arrival, and said he would make a "great addition" to the Number 10 team. Larry was the first cat to hold the appointment since stalwart ratter Humphrey was retired in 1997.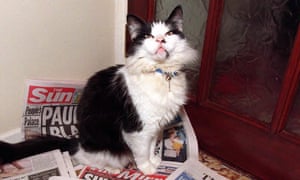 Humphrey in 1999 after leaving Downing Street. Photograph: PA
Humphrey was succeeded for a short period by Sybil, the pet of then chancellor Alistair Darling, in 2007, but the renowned mouser failed to settle, and returned to Scotland. The Foreign Office appointed Palmerston, a moggy, in April to keep pests in Whitehall at bay.
An unofficial Twitter account set up under Larry's name posted on Monday: "Does anyone know a good cat groomer available tomorrow? I need to make a good impression on someone on Wednesday …"
It had earlier tweeted: "One final thing before they'll let you have the job, Theresa May2016 – tell the people you'll keep me in Number 10."