George Catlin (July 26, 1796 to December 23, 1872) the American artist and adventurer, was the first to paint the Plains indians, according to European standards, during his visits to that area in the 1830s. These travels were just one instance of Catlin's desire to see and record the exotic. This ambition took him around the world.

Here is one example of Catlin's work, from 1832.
And here is a scene from his time in Belgium, many years later.
"The Cat of Ostend" shows Catlin perhaps a bit confused about the difference between feral and domestic.


His outdoor scenes are unparalled in their beauty, and the rare interior also.

Below is lesser known also, from the Plains, and shows a Buffalo repelling a pack of white wolves. This also is interesting. According to a wolf site

Great Plains wolves vary from 4 1/2 to 6 1/2 feet long from nose to end of tail, and weigh between 60 and 110 pounds. The female is roughly 80 percent the size of the male. Their coat is usually a blend of grey, black, brown, buff, or red.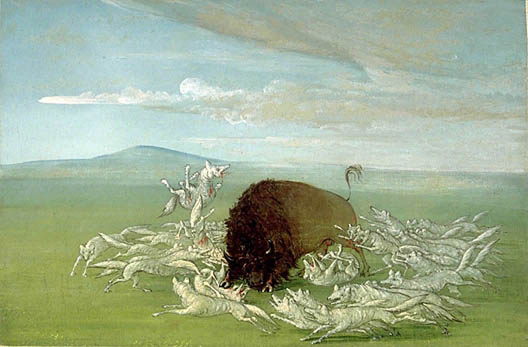 Arctic wolves are white, but a cursory glance at the literature did not suggest Plains wolves were ever. The picture is mesmerizing, not least because of Catlin's reputation for accuracy.