Bagpuss was a stuffed cloth toy cat that figured in 20th century British children's television. A short series of shows featured the cat and other toys that came to life when invoked by a Victorian child. Bagpuss was a product of Smallfilms, a company Peter Firmin (born 11 December 1928) and Oliver Postgate founded.

Here is a picture of Bagpuss at work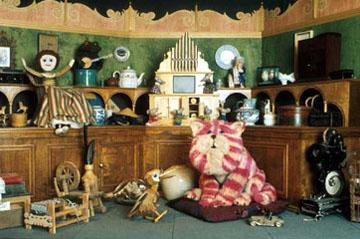 and here is Bagpuss with Peter Firmin's child (who introduced the show), in a BBC promo picture.
Peter Firmin and his wife still live
at the farmhouse in Blean near Canterbury,
where they created children's shows, and wrote and illustrated children's books. His wife Joan, had been a bookbinder when they married. They have a total of six daughters and according to Wikipedia, most of the children have careers in art:

Charlotte is an illustrator;

Hannah, does book jacket illustrations (like those for Alexander McCall Smith's The No. 1 Ladies' Detective Agency books)

Josie, manages hand-painted china shops in London and Canterbury

Katy works for a farmers' cooperative

Lucy is a pattern-cutter for fashion houses in Italy

Emily, whose picture is above, is now a papier mache artist and printmaker
And here is the co-creator of Bagpuss recently.
The Bagpuss series began and ended in 1974. In 1999 Bagpuss was voted, in a BBC poll, to be Britain's favourite children's television program.