Julian Trevelyan (February 20, 1910 to July 12, 1988) described his art as surrealism. Like many artists, he also taught art; in his case one of his students was David Hockney. His family came from English academicians and writers, and his first wife was the potter Ursula Darwin, great granddaughter of Charles Darwin.
According to an article by
Andrew Lambirth (
18 May 2013, probably in The Telegraph):

The Trevelyan family was well-connected and highly civilised. Julian's father was a classical scholar, poet and essayist, and to his house near Leith Hill in Surrey came a wide range of guests, including the philosophers G E Moore and Bertrand Russell, and the writers Lytton Strachey and Bernard Berenson. When, aged 20, Julian announced to his family his plan to study art in Paris, his uncle, the noted historian G M Trevelyan, remarked: "I do hope you're not going to meet one of those Matisses or Picassos." Of course, that is what happened.
Here is some of Julian Trevelyan's art:

"Cat and Guitar"
and his
coloured etching and aquatint, "Me and my Cats " (1978).
Julian Trevelyan did not just inherit creativity. In 1935 he purchased "Durham's Wharf" which would be his home, on the Thames River, for over 50 years. It became a famous part of the English cultural world. Here are some paintings he did of his home. The first is titled "Snow at Durham's Wharf."


and this also comes up in a search for Durham's Wharf: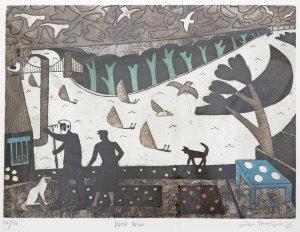 Cats were obviously an integral part of home for Julian Trevelyan.