Robert Clatworthy (January 31 1928 to March 15 2015) was an English sculptor most noted for his statues of animals. We rely on his Telegraph obituary for this sketch:

....
Clatworthy explored a middle ground between figurative and abstract traditions to create what was called a "shaggy expressionism". His powerful early bronzes of cats, bulls and horses were worked up in what one critic described as a "frenzy-fingered" style, rapidly modelled in quick-drying wet plaster. This allowed the vitality and character of the animals to emerge from the pitted molten surface created by a whirlwind of splashing plaster.

Cue the cat (1954)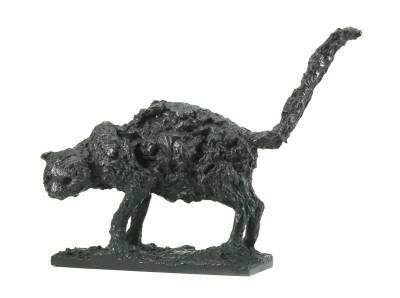 ...
His works have a post-war fearfulness, ....
In the mid-1950s the influential art critic David Sylvester described Clatworthy's work as "the best thing I have seen by any English sculptor younger than Henry Moore". However, Clatworthy's increasingly reclusive life, later spent at an isolated farm near Llandovery in Wales, would find him slip slowly from the art world's gaze.
...He studied at the West of England College of Art before progressing to the Chelsea School of Art and the Slade. During the early 1950s he spent a brief period as an assistant to Henry Moore, but he was snapped up by Erica Brausen's influential Hanover Gallery in 1954. He found his sculptures exhibited there alongside works by Giacometti, Picasso, Hans Arp, César and Francis Bacon.

By the time the Tate Gallery acquired the first of their two bronze bulls in 1957, Clatworthy was one of the best-known sculptors in Britain, appearing on the front page of the Sunday Times with his life-size Bull (1956-57), commissioned by the LCC. Now a listed public sculpture it stands dwarfed by the tower blocks of the Alton Estate in Roehampton.
....
He was drawn .... to teaching. He taught at the Royal College of Art (1960-72) ... and was one of a number of dynamic forward-thinking sculptors – including Anthony Caro and Eduardo Paolozzi – to take up Frank Martin's offer of teaching posts in his new sculpture department at St Martin's School of Art in London, where he would be a governor (1970-71). Between 1971 and 1975 he was the head of the fine art department at the Central School of Art & Design......

[In] the 1990s ...he turned away from sculpture (having developed an allergic reaction to plaster) to produce a series of startling drawings and paintings, many of which echoed the brutal aesthetic of Francis Bacon's work. ...[His] heads and figures were based on subjects that he refused to name.


He became a Royal Academician in 1968, at the age of 40, exhibiting at the RA many times over the ensuing decades. His other one-man exhibitions included shows at Hanover Gallery, [and] Waddington Gallery,.... He was also involved in definitive group shows such as Modern Sculpture at the ICA (1955), British Sculpture in the '60s at the Tate Gallery (1965), and British Sculptors '72 at the RA (1972).

..... [H]e avoided interviews. His work, he said, "must stand on its own without the need of words to support it".

Clatworthy continued to work until the end of his life. When asked by a reporter how he would spend his 80th birthday, he replied succinctly: "I shall get up at 4.30am and go to work."

In addition to the Tate's holdings, his work can be found in the collections of the Arts Council and the Victoria & Albert Museum. A retrospective book, Robert Clatworthy: Sculpture & Drawings (edited by Keith Chapman), was published in 2012.

Robert Clatworthy married first, in 1954, the actress Pamela Gordon (his mother-in-law was the musical star Gertrude Lawrence); the marriage was dissolved. He married secondly, in 1989, Jane Stubbs; she survives him, as well as two sons and a daughter from the first marriage.
We have above glimpses of a great artist.